For industrial companies, the customer-supplier relationship has become strategic. Strong, long-term relationships with suppliers have the capacity to add value and drive growth. And the quality of a company's relationships with its suppliers is a significant factor in performance. So, at LYNRED, customer satisfaction is a top priority.
To ensure that our relationships with our customers are successful, we have created a dedicated customer care team tasked with providing assistance and technical support. We take a proactive approach to responding to your questions and needs. Our engineers have the skills they need to work efficiently with your people, from R&D to engineering.
Our customer care services are backed by a 110 sq. m training and testing center located on our premises in France right next to our manufacturing plant. As a LYNRED customer, you benefit from complete access to the center's testing equipment and technical documentation on all of our products. The center is designed to provide all of the resources you need to validate your project, speed up your product development process, and optimize the solutions you are developing. Our people can also make recommendations and deliver theoretical training so that you can capitalize on the latest knowledge, give and receive valuable product and project feedback, and learn new skills.
The customer-supplier relationship doesn't stop there, however. As a LYNRED customer, you also have secure access to our online platform, with training videos, product documentation, FAQs, calculators, and more.
 "TRUST: THE MOST EFFICIENT WAY TO MOVE YOUR PERFORMANCE FORWARD"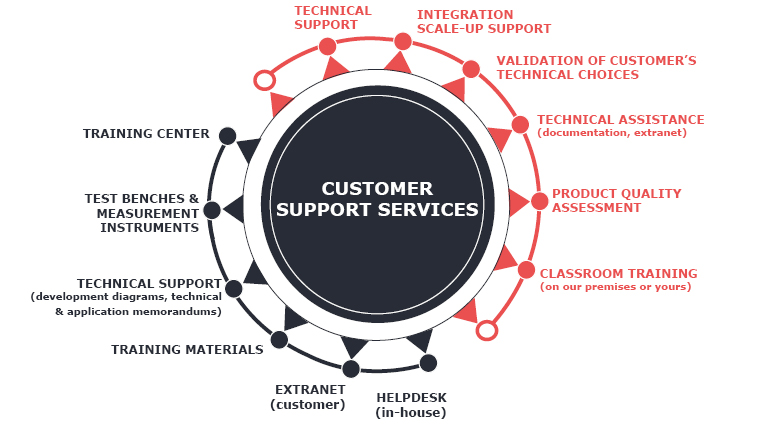 Our customer care services are fully integrated into our product lineup, personalized, and available to all customers. Our mission is to help boost your technical capabilities to make your infrared solution development processes more efficient and shorten time to market.