Jan 01 . 3min read
Thermal imaging is like any other industry in that suppliers are assessed on much more than just price. They must also be able to demonstrate their ability to secure their own supply chains, guarantee on-time delivery, and assist their customers with their product development and integration projects.  Today, thermal imager suppliers have to make sure that their own organizations have the necessary competencies and offer their customers a structured, efficient purchasing experience.
Suppliers that are ahead of the curve have staff capable of supporting their customers at every stage of the product development lifecycle. More than just a customer-supplier relationship, they offer true partnership.
So, what factors should you consider when selecting an infrared detector supplier? How do you evaluate your supplier's capacity to set up a project team for your innovative product or solution? The points below are a good place to start.
Strategic and operational support that begins ahead of the project
Before you begin the product development cycle, your thermal imager supplier should be able to assist you with determining if there are any geographical restrictions depending on which products you are planning to commercialize and where. Your supplier should be able to guide you at this stage. Beyond regulatory issues, your supplier should also be able to help you understand who your local and international competitors will be. Your supplier should also possess detailed knowledge of customer expectations on the market you are targeting. An effective supplier will have seasoned sales reps with expert knowledge of specific geographical areas or markets and who understand all of the steps in the product development cycle. Key account managers usually play this role. Your key account manager should be well-versed in both the technical and business aspects of your project. Generally, the key account manager is able to provide a big-picture view of your project before it begins, making sure that it is scoped properly and that it is feasible in practical terms. Finally, the key account manager should be able to advise you on which infrared product is right for your project.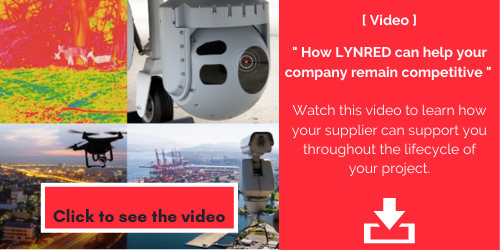 Expert technical support at every stage of your project
Thermal detectors are technical products that require expert knowledge. Once you have selected a detector to integrate into your product or solution, you have to configure and test it. At this stage, your supplier's customer support team should take over from the key account manager. The customer support team should be staffed with technical experts whose sole mission is to implement their infrared products in their customers' project environments. Their experience with a broad range of configurations should position them to answer just about any question you have and to ensure that you factor any technical limitations into your product development work.  At each stage of the integration process, you should be able to count on your supplier's customer support team for help configuring your detector, selecting mounting hardware, connectors, and a power supply, and answering any other questions that arise right through until testing is completed.
Leading thermal detector suppliers tend to offer more support over a longer time frame.
Ongoing investment in innovation
Thermal detector suppliers must make ongoing investments in innovation if they are to effectively support their customers. So, innovation should also be something you consider when choosing a supplier. How capable is your supplier of adapting to new technologies? Will your supplier be capable of developing completely new solutions in response to market demand?
Customer-facing experts like key account managers and customer support staff are crucial. But your supplier should also have scientists and engineers working behind the scenes to develop new products for tomorrow's markets and the production tools to manufacture them. 
Your supplier's research and development teams should be working on technology and product development and launch roadmaps at all times to ensure that they are staying ahead of identified market needs. This capacity for innovation and ability to set up teams of experts to conduct applied research are major plus points when choosing a supplier.
Experts to assist you with export-related issues
Thermal imaging detectors are subject to strict export regulations that you simply have to be aware of before even beginning to work on a product that contains a thermal imaging detector. Having a supplier you can count on to maintain expert knowledge of the latest regulations is vital, and will ultimately save you time designing your product and avoid the costs of having an export license application rejected.  
But that's not all. A solid supplier will also have close working relationships with the government agencies that regulate exports. This will give you additional assurance that your products will ultimately make it to the markets you are targeting. 
For customers and, especially, their purchasing departments, it can be difficult to go beyond price to evaluate a supplier's technical expertise, knowledge of the market, capacity to work together operationally, and to solve problems. Ultimately, it is worth the extra effort to conduct a thorough evaluation of all of these criteria. Working with an infrared detector supplier that has the right experts for every stage of your project is important.
To learn more about how a market-leading thermal imaging detector manufacturer supports its customers with their product development processes, sign up for our free webinar! How LYNRED contributes to the competitiveness of your business in growing IR market.