Sep 09 . 4min read
Thermal imaging is like any other technical field in that most of the product-related communication that takes place is between people with technical backgrounds like developers, systems designers, and project managers. Buyers with non-technical profiles only come into the picture once the product has been selected. Any negotiating that happens during the sale is generally about volumes, prices, and lead times.
Increasingly, however, other, less-techical departments within the customer's organization are getting involved earlier on in the process of selecting the components that will be integrated into their products.
The most frequently-asked questions tend to be about the product itself, about how to obtain a license for cooled devices, and about customer support and delivery times.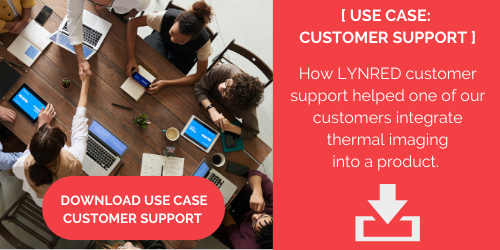 2 - The product
Buyers most commonly ask questions to help them make a final product choice, such as:
How the product is integrated and the operating environment (shock, vibration, temperature, etc.)

The kind of system (the cost of the detector can be higher than the cost of the complete system)
The following table is designed to help make selecting the right detector easier: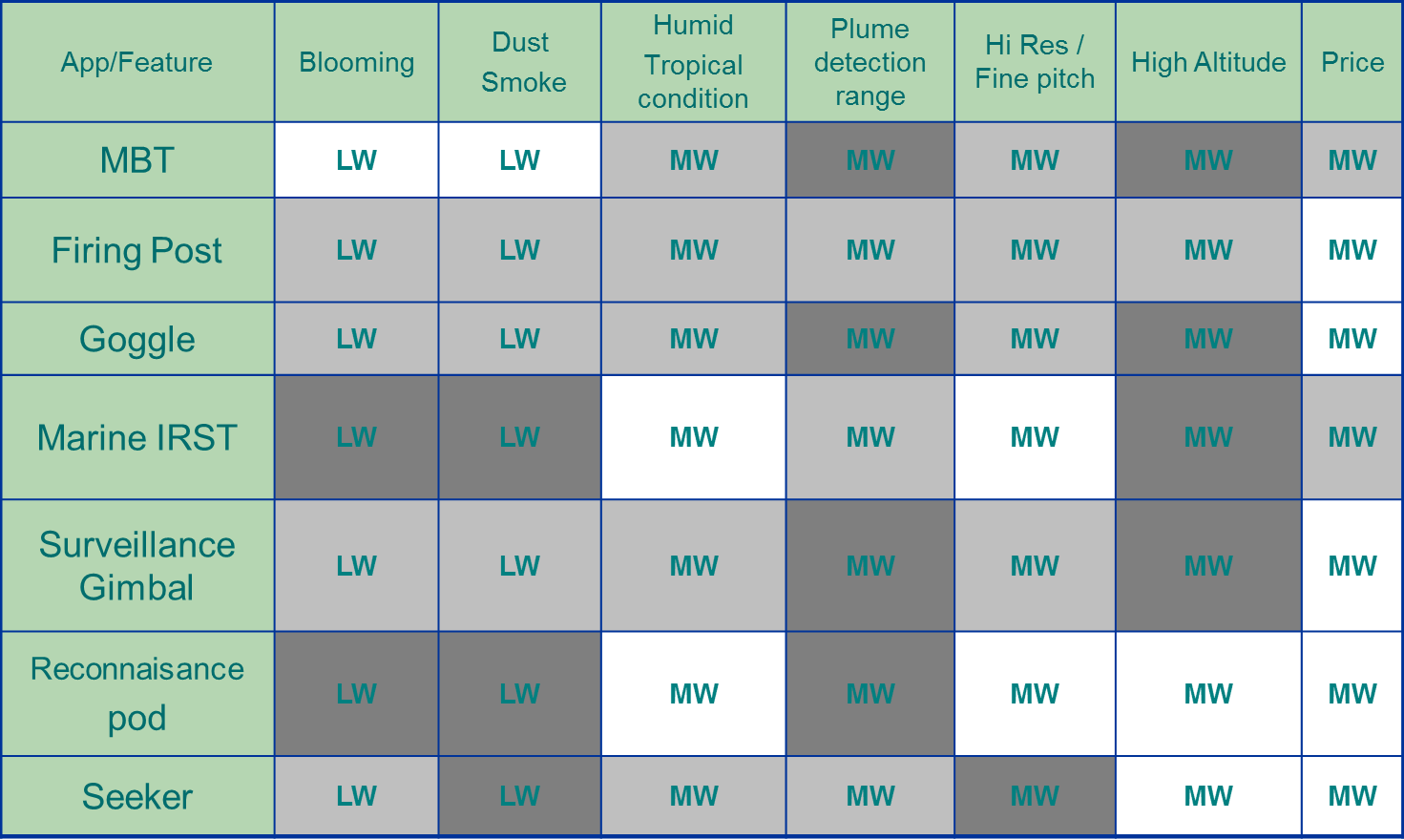 Each row is dedicated to a specific application. The columns show the different characteristics. Each cell indicates which spectral band is the most suitable. A dark gray cell means that that particular characteristic is not as critical for the application in question. Light gray means that the characteristic could be important depending on the specifics of the application. White means that the characteristic is generally important for that application. The entire table serves as an at-a-glance product selector covering most major applications for IR detectors.
2 - Licensing procedures
When it comes to infrared technology, there are strict rules and authorizations for developing and integrating new types of components. The licensing procedures are also strict.  Therefore, licensing is something that should be addressed very early on in the purchasing process.
Some suppliers send their potential customers ethics questionnaires to determine whether or not they will be able to build the absolute trust that is required for a long-term partnership in this industry. Buyers should not view this as a hassle, but rather as evidence of the supplier's commitment to a mutually-beneficial partnership. A supplier that is willing to go beyond a simple customer-supplier relationship is generally a supplier you will be able to count on.
Export regulations are also something that should be looked at very early on. Infrared is an advanced technology that is used in military applications, so exports to some countries are prohibited.
A license must be obtained for exporting defense-related products to other countries within the EU (a transfer license) and outside the EU (an export license).
There are three main kinds of license: individual, general, and global. In France, these licenses are granted by the Prime Minister based on a recommendation from the Interministerial Defense-Related Product Export Commission (CIEEMG) and issued by the Ministry that oversees customs.
A license granted may be subject to certain conditions. Most often, licenses come with an obligation for the manufacturer to obtain from you, the customer (whether the customer is a government, company, or individual), a statement of how the product will be used, that it will not be re-exported, and that it cannot be resold to third parties without permission from the French authorities.
For microbolometers the situation is different. These products are considered "dual-use," which means that they have both civil and military applications. So, a license must be obtained for the transfer or export of dual-use goods. The exporter requests the license from the national authorities.  
In France, the Directorate General for Enterprise has a department (SBDU) that handles license requests for dual-use goods. Requests are reviewed by the relevant government ministry (CIBDU). Licenses for dual-use goods are valid across the European Union.
As a manufacturer of products that contain infrared technology, you must obtain licenses to export your products. It is important to discuss this with your infrared detector supplier early on so that your supplier can advise you on the best choices to make in terms of the countries you plan to export to.
3 - Support
One important point you should address during the purchasing process is the exact technical scope of your project, whether it is to develop a new product or to add value to an existing product.
Ask the supplier for assistance scoping the project, identifying the most critical aspects, and, above all, finding the assembly solutions you will need, either within your company or with an outside partner.
Another type of question that is asked very frequently is about technical support during the project and after the sale.
Support is absolutely crucial and it is important to make sure you pay sufficient attention to it early on in the purchasing process. Your supplier must be able to offer you long-term technical support and a customer support team that is available when you need assistance.
A supplier that lets you test your product at their testing lab is also a major plus. Ask your supplier if training for your people can be provided in real-world conditions on the actual product they will be using. This can help get your team up and running quickly and efficiently.
Some suppliers have testing and training centers their customers can use to test all of their detectors. And some even offer online resources like access to your customer account where you can communicate directly with technical experts and download very detailed technical documentation.
4 - Lead times
The final question that frequently comes up is lead times. And it is an important one, given that many buyers are not aware of just how long lead times can be for infrared devices. In addition, how quickly the product can be delivered will depend largely on whether or not a license has already been obtained for it.
So, buyers should count on six to nine months on average for products for which a license has already been obtained, and a year for products for which a license must be requested.
These questions come up frequently throughout the purchasing process. And the answers are crucial to creating the trust that is needed to work together over the long term.
Plus, buyers who are aware of these strategic issues will be more capable of detecting opportunities for innovation with a supplier. In exchange, the supplier has to be able to answer these important technical and strategic questions to effectively support the customer.
Thermal imaging technology has the capacity to drive new product innovations. Download our free case study to see how. We'll show you how LYNRED Customer Support helped one customer integrate infrared technology into a new product!