Dec 12 . 4min read
Industrial companies no longer look at their supplier relationships as purely transactional. Today, industrial supply chain professionals are acutely aware of the vital role their suppliers play in providing the components they need to manufacture their products to their customers' satisfaction and grow their business. Now more than ever, industrial companies count on the service quality and expertise their suppliers bring to drive growth.
This is especially true on high tech markets like thermal imaging, where infrared detector suppliers play an important role in their customers' development. These suppliers often bring many years, if not decades, of experience, are staffed by seasoned engineers, and possess advanced manufacturing equipment and processes. They are ideally positioned to assist you and support the growth of your company.
Read on to learn more about how a competent and committed infrared sensor supplier can support the growth of your business. It is a strategy called supplier development.
On-time delivery (OTD)
On-time delivery is a key performance indicator for thermal imaging—just like it is for other industries. OTD indicates the percentage of products delivered by the deadline determined by the customer and supplier for a given time period. A good OTD rate is 95%. This kind of OTD rate indicates that the supplier's own supply chain is robust and reliable enough not only to ensure on-time delivery, but also to handle a variety of scenarios, from small runs to volume batches. Improving OTD can drive growth: OTD supports better customer service and overall competitiveness. So, OTD is a strategic indicator for your business, as well.
Advanced manufacturing equipment and processes
A supplier's production capabilities must be able to respond to the needs of today's market, including market demand for innovation. Suppliers on the thermal imaging market have to be able to commit to substantial volumes and deliver on time. This also means having an independent supply chain. An independent supply chain forms the foundation of an efficient production system and fuels steady growth. 
An infrared detector supplier's cleanrooms must also be ISO 4 as defined by the ISO 14644-1 standard. The standard, for air purity, sets the maximum particle sizes and concentrations allowed in a given volume. Temperature, humidity, and relative pressure must also be controlled. These indicators are important for infrared detector manufacturing due to the fact that the devices are so sensitive to contamination by debris in the air. A competent supplier monitors these parameters regularly (every three to four months). 
A thermal sensor manufacturer can also support its customers' development by maintaining its own performance at the state of the art, constantly adapting to fast-paced markets by investing in the latest production equipment and processes. Today, for example, thermal imaging manufacturers use 300 mm wafer technology. Suppliers need to be able to innovate to manufacture more chips per wafer, for example, to bring costs down. They must also be able to manufacture products to meet their customers' specifications. A supplier's capacity to innovate must always serve the customer and, ultimately, respond to market demand.
Advanced manufacturing capabilities are not enough, however. A supplier of thermal imaging detectors must also use standard microelectronics-industry processes. One standard practice is to use JEDEC IC matrix trays to transport chips. The trays are robust and rigid to ensure that their cargo is protected from damage. The stackable trays are also compatible with standard production equipment and can be integrated into automated processes. For example, automated pick and place, sorting, and other machines can handle components on JEDEC trays. A supplier that uses these types of processes will generally be able to guarantee a superior level of service.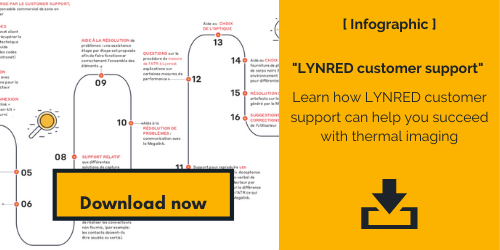 An extensive product catalog
The more products your supplier offers, the more likely it is that you will find a solution to meet your needs. A wide product range also positions you to better address your customers' needs. On the thermal imaging market, a supplier can offer a variety of formats, for example, from 80x80 to SXGA. A supplier can also offer different technologies, like MCT, InGaAs, and microbolometer detectors. Cooled detectors are packaged with cryogenics, while uncooled detectors operate at ambient temperature. Overall, your thermal sensor supplier should be able to cover the entire spectrum, from SWIR to VLWIR.
Proven experience
Like in any business, experience is crucial. Often, experience is the best guarantee of effective processes. Working with an experienced supplier is even more important in highly-specialized fields like thermal imaging. An experienced supplier can provide you with valuable expertise and efficient manufacturing processes.
Strong customer support
Once you have made sure that your supplier has the necessary production and supply chain capabilities, you should also look at their customer support. Strong customer support is an absolute necessity. And effective customer support is delivered in close cooperation with the supplier's R&D and product managers. The idea is to be able to respond to even the most challenging customer issues to keep customers' projects moving forward. Thermal imaging is a technical field that requires expert knowledge. So, your supplier's customer support team has to be able to answer your questions and support your own product development cycle, from integrating infrared technology through to final testing. Some suppliers provide this kind of high-value support free of charge to facilitate long-term partnerships with customers. A solid relationship with your thermal imaging sensor supplier can help boost your company's performance and growth. It is important to establish tangible, concrete performance indicators for the relationship to be successful.
If you would like to see first-hand what quality customer support from a thermal imaging detector supplier looks like, download LYNRED's customer support case study. LYNRED has been a leader on the global thermal imaging market for more than 35 years and has developed proven processes for addressing each customer's unique needs.