Sep 09 . 3min read
When you decide to integrate an infrared solution into your cameras, there are a few things you need to make sure you have in place first, both in terms of product design and development and in terms of how you train and organize the employees handling the technology.
Chances are, if you are thinking of developing a new product with integrated infrared technology you probably already have experience with other imaging technology, like visible and low-contrast, for example. So, you won't be in completely uncharted waters.
However, visible and low-contrast imaging have their own rules and complexities. So, while being familiar with these technologies will help, there are some additional things you will need to know about infrared detectors and cameras designed to integrate infrared detectors.
This is really no cause for concern. The overall architecture is the same. You will still usually have a detector with embedded electronics in an enclosure onto which the lens is mounted.
So, exactly what technical and organizational prerequisites do you need to have in place before integrating infrared technology into your products? Read on to find out.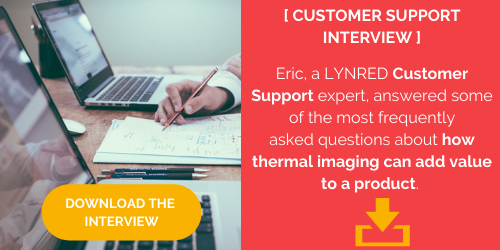 Technical training for your employees
The same people who design your visible cameras can also design new products that integrate infrared cameras. They will need many of the same skills and, in most cases, they will easily adapt to the aspects that are different. But first, they will need to learn about a few of the unique features of infrared detectors.
From a technical standpoint, the main differences concern the electronics and thermal management. And the two concepts are closely interrelated. Infrared detectors that operate in the 8 µm to 14 µm range are designed to detect heat. The electronics must not create any noise (like white noise) that will affect image quality or generate nuisance temperature fluctuations that could have too much impact on how the sensor operates. The goal is to focus on the quality of the components that go into a camera's sub-assemblies and on how the components are integrated so that temperature fluctuations can be minimized.
A trusted infrared detector supplier will be able to help you understand the basic rules for integrating a detector and what the main challenges are. Having an expert to answer your technical questions will prove to be invaluable to your design and development teams. The detector and the system into which it will be integrated are complementary. And the end product must be looked at from both angles to come up with an optimal solution.
In terms of training your team on the thermal behavior of the bolometer for example, you will have a hard time finding theoretical training on this specific topic.  This is a challenge, but it is one that your thermal imaging sensor supplier should be able to help you with.
Special equipment
In addition to these training and organizational aspects, you will also need to acquire the right equipment to correctly implement a high-tech infrared solution. The basic equipment can be costly, but it is absolutely crucial. You will need two black bodies (heat sources that emit the same energy in all directions) and a climatic chamber. These two main types of equipment will enable you to capture reference images in front of perfectly-calibrated heat sources and to simulate the temperatures in which your detectors will be used. The reference images can then be used to correct (with software) the image generated by the detector.
Some of the development work you will have to do will be preparing for this software correction stage using the black bodies and studying the detector's behavior so that you can determine the settings that will deliver the performance your end users expect.
At this stage, a supplier able to provide you with expert support will be a substantial advantage. Tests to determine the detector's behavior in different environments are done generically, and can help you understand whether or not the results you are obtaining are in line with the detector manufacturer's specifications.
If you train your people and adapt your organization to the specificities of infrared detectors and work closely with your infrared detector supplier, you can shorten time to market by three to six months. A shorter new product development cycle can bring your business a competitive advantage and greater profitability.  Plus, if you already develop products with visible imaging capabilities, you should have a solid foundation in terms of know-how and equipment to get your infrared product development project off to a good start.
You can learn more about LYNRED's solutions in this interview with Eric, customer support at LYNRED. LYNRED's customer support department knows better than anyone how our customers use thermal imaging every day!